Care and Maintenance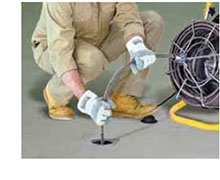 ACO Wexel roof and floor drains require minimum maintenance when they have been correctly installed. Scheduled inspections should be carried out to ensure that they continue to perform efficiently.
Initial inspection
Once drains have been installed they should be inspected to ensure that all parts are accounted for and correctly fitted. Nuts and bolts need to be tight and secure. Care must be taken around sharp objects (screws etc.) left by other trades, as they may be trodden on. This can cause damage to the surface material and/or waterproof membrane.
Roof drain maintenance
Every flat roof must have an inspection plan. Roof inspections should be carried out on a regular basis, especially in locations where there are nearby trees creating leaf blockage.
Blockages must be cleared immediately to ensure the system does not overflow. Plastic bags will quickly block a drain or grate, whilst airborne grit and fines will silt up gradually and restrict the flow.
Floor drain maintenance
Regular drain cleaning is very important where there is the potential of severe flooding.
Floor drains are an entry point into the sanitary or stormwater drainage system. Waste is often washed down from floors as well as leaves and litter from external pavements. If maintenance is neglected, solid debris will inevitably clog the underlying pipework causing backups.
Drains in commercial kitchens need particular attention, because wastewater generally contains fats, oil and grease.
For applications requiring a more hygienic and durable solution, a stainless steel body and grate is recommended – refer to ACO Gully.
The use of strainer baskets are recommended to prevent debris from reaching pipework and resulting in costly maintenance. Strainer baskets must be cleaned regularly to remove debris and cleaning intervals are determined by the amount of debris present after each cleaning session.
ACO Wexel's stainless steel floor grates are appropriate for general use in and around buildings including most coastal locations. Clean with soap, warm water rinse and wipe dry. Under no circumstances treat with metal scouring pads, metal scrapers or wire wool as these will contaminate surfaces leaving rust spots.