Hydraulic Data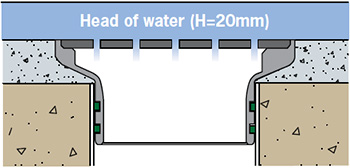 Water flow is restricted by the open area of grate. For the ACO Wexel range, there is no further reduction of flow from the underlying bodies. The head of water creates pressure and is also part of the calculation.
The table below shows the flow rate based on the diagram shown right.
Note that fixed or removable strainers will reduce the flow rates.
Part No.
Intake area
(mm2)
Based on 20mm
head of water (H)
Based on 30mm
head of water (H)
Based on 40mm
head of water (H)
Based on 50mm
head of water (H)
141855
141856
141857
141958
141858
2,404
5,503
4,173
N/A
6,901
0.98
2.24
1.70
N/A
2.81
1.20
2.74
2.08
N/A
3.44
1.38
3.17
2.40
N/A
3.97
1.55
3.54
2.69
N/A
4.44
141859
141860
141861
2,919
7,216
13,734
1.19
2.94
5.59
1.46
3.60
6.85
1.68
4.16
7.91
1.88
4.65
8.84
141969
141970
141971
5,503
7,216
13,734
2.24
2.94
5.59
2.74
3.60
6.85
3.17
4.16
7.91

3.54
4.65
8.84
Part No.
Intake area
(mm2)
Based on 20mm
head of water (H)
Based on 30mm
head of water (H)
Based on 40mm
head of water (H)
Based on 50mm
head of water (H)
141870
141871
141872
141873
5,503
11,199
4,173
6,901
2.24
4.56
1.70
2.81
2.74
5.58
2.08
3.44
3.17
6.45
2.40
3.97
3.54
7.21
2.69
4.44
141874
141875
7,216
13,734
2.94
5.59
3.60
6.85
4.16
7.91
4.16
7.91
141862
141864
141866
2,404
11,199
4,173
0.98
4.56
1.70
1.20
5.58
2.08
1.38
6.45
2.40
1.55
7.21
2.69
141867
2,919
1.19
1.46
1.68
1.88
141876
141877
141878
141879
5,503
11,199
4,173
6,901
2.24
4.56
1.70
2.81
2.74
5.58
2.08
3.44
3.17
6.45
2.40
3.97
3.54
7.21
2.69
4.44
141880
141881
141882
7,216
13,734
28,310
2.94
5.59
11.53
3.60
6.85
14.12
4.16
7.91
16.30
4.65
8.84
18.23
141883
141884
141885
141886
141887
141888
141889
141890

5,503
11,199
4,173
6,901
5,503
11,199
4,173
6,901
2.24
4.56
1.70
2.81
2.24
4.56
1.70
2.81
2.74
5.58
2.08
3.44
2.74
5.58
2.08
3.44
3.17
6.45
2.40
3.97
3.17
6.45
2.40
3.97
3.54
7.21
2.69
4.44
3.54
7.21
2.69
4.44
141891
141892
141893
141894
141895
141896
7,216
13,734
28,310
7,216
13,734
16,971
2.94
5.59
11.53
2.94
5.59
6.91
3.60
6.85
14.12
3.60
6.85
8.46
4.16
7.91
16.30
4.16
7.91
9.77
4.65
8.84
18.23
4.65
8.84
10.93
141897
141898
141899
141900
141901
2,404
5,503
11,199
4,173
6,901
0.98
2.24
4.56
1.70
2.81
1.20
2.74
5.58
2.08
3.44
1.38
3.17
6.45
2.40
3.97
1.55
3.54
7.21
2.69
4.44
141902
141903
141904
2,123
7,216
13,734
0.86
2.94
5.59
1.06
3.60
6.85
1.22
4.16
7.91
1.37
4.65
8.84
Part No.
Intake area
(mm2)
Based on 20mm
head of water (H)
Based on 30mm
head of water (H)
Based on 40mm
head of water (H)
Based on 50mm
head of water (H)
141905
141906
141907
141908
141909
141910
141911
141912
141913
141914
15,180
15,858
22,255
15,180
15,858
16,971
15,180
15,858
15,180
15,858
6.18
6.46
9.06
6.18
6.46
6.91
6.18
6.46
6.18
6.46
7.57
7.91
11.10
7.57
7.91
8.46
7.57
7.91
7.57
7.91
8.74
9.13
12.82
8.74
9.13
9.77
8.74
9.13
8.74
9.13
9.77
10.21
14.33
9.77
10.21
10.93
9.77
10.21
9.77
10.21